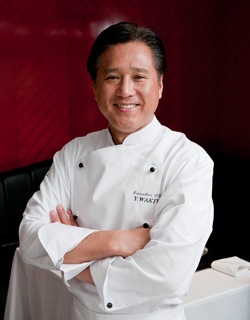 Wakiya's dishes are receiving high evaluation from both Japan and overseas with delicacy and brightness like Japanese expressed beautifully decorated food on carefully selected chinaware.
Dishes prepared based on Shanghai cuisine, with seasonal food are kind to body.
Orthodox Chinese prepared by positive technique with perfect harmony of 5 taste (sourness, saltiness, bitterness, sweetness, delicious flavor) are supported from the wide layer.
Profile of Yuji Wakiya

1958 Born in Sapporo Hokkaido
1973 Started Chinese cooking, worked at Sanno Restaurant, Hilton Hotel Tokyo, Capital Tokyu Hotel
1985 chef of the Chinese restaurant of a hotel in Tokyo.
1992 Executive chef of the Chinese restaurant of a hotel in Tokyo.
1996 Owner Chef of Turandot Yusenkyo
1997 Executive Chinese Chef of Yokohama Tokyu Hotel
2001 Open Wakiya Ichiemi Charou Akasaka, Tokyo
2005 Attend Madrid Fusion 2005
2005 Awarded Honorary member of Jaanese Sommelier Association
2007 Open Wakiya Gramercy Park Hotel in New York (closed Dec 2008)
2008 Awarded Chevalier Commanderie de Bordeaux
2008 Awarded Minister of Health, Labour and Welfare Prize
2008 Awarded Tokyo Meister
2009 Awarded Chevalier Commanderie de Champagne
2010 Awarded Contemporary Master Craftsman Prize by Ministry of Health, Labour and Welfare
2010 Open Wakiya Geihin Charou Akasaka, Tokyo
2010 Open Turandot Garyukyo Akasaka, Tokyo
2011 Attend World Gourmet Summit in Singapore
2012 Awarded Food Master Bronze Prize by Ministry of Agriculture, Forestry and Fishers
2014 Awarded the Ojuhosho(Medal with a Yellow Ribbon) by the Emperor.

Currently Owner Chef of 4 restaurants in Tokyo and Yokohama.

In the media, convey pleasure of Chinese food and tea through TV programs and magazines including NHK ''Today's Dish''.

Charity work since 2002 in the USA and Europe.